*INCOMING TRANSMISSION...*
Another year in Law school is about to start as of this posting, so I'll just have to make this quick. Prepare for a bit of a surprise later on as part of this blog's First Anniversary... ^^
P.S. The following pics were shot using the Nokia N8-00 that I got from my dad after trading back his N95 8GB along with my C3-00.
*END TRANSMISSION...*
On to the (long-overdue) review...
I first bought the little bugger more or less a full year ago, a month after purchasing the Seravee GNHW/B. I was a bit grateful on choosing this because it had slightly more gimmicks and accessories than its twin suit Susanowo. After that came some booboos after its construction, particularly the VERY fragile pegs on the waist/GN Tau Drive area. More on that later.
Completed Model
Following the design philosophy of its predecessor unit, the OverFlag, the suit is as sharp as ever, but not Arche-sharp. Just right, especially with the samurai-inspired angles.
360-Degree Views
Due to its leg design, the joints are bound to get loose quickly, especially while supporting the slightly-heavier upper body.
More Views
Still looks all-imposing from these angles so far.
Got to love this mugshot... XD
Weapons and Accessories
Quite a small amount of goodies on this suit. Well, it's more suited for close combat anyway, so who needs rifles?
GN Short Beam Katana (Howard)
You may have noticed the white parts on its lower arms; they are actually the gauntlets from the Susanowo, but were not intended to be used here (NOTE: model-wise, the Susanowo kit was released before the Masu kit, thus the similarities.)
Dual-wield with GN Long Beam Katana (Daryl)
Judging by the number of these pictures, I'd say that this suit is more suit-ed with two swords in tow. A few qualms on the swords:
- I'm quite shocked at the fact that the pilot had to give the names of his fallen buddies on his weapons; I mean, there's no harm in doing so, but why the so-so names? and
- Why are the beam effects not that secure on the hilts?
Beam Chakram
So far the most useless accessory, as I do not even have an idea as to how powerful this is. Originally it should be orange, but was instead molded clear rather than the same orange used in the beam katanas.
Summary: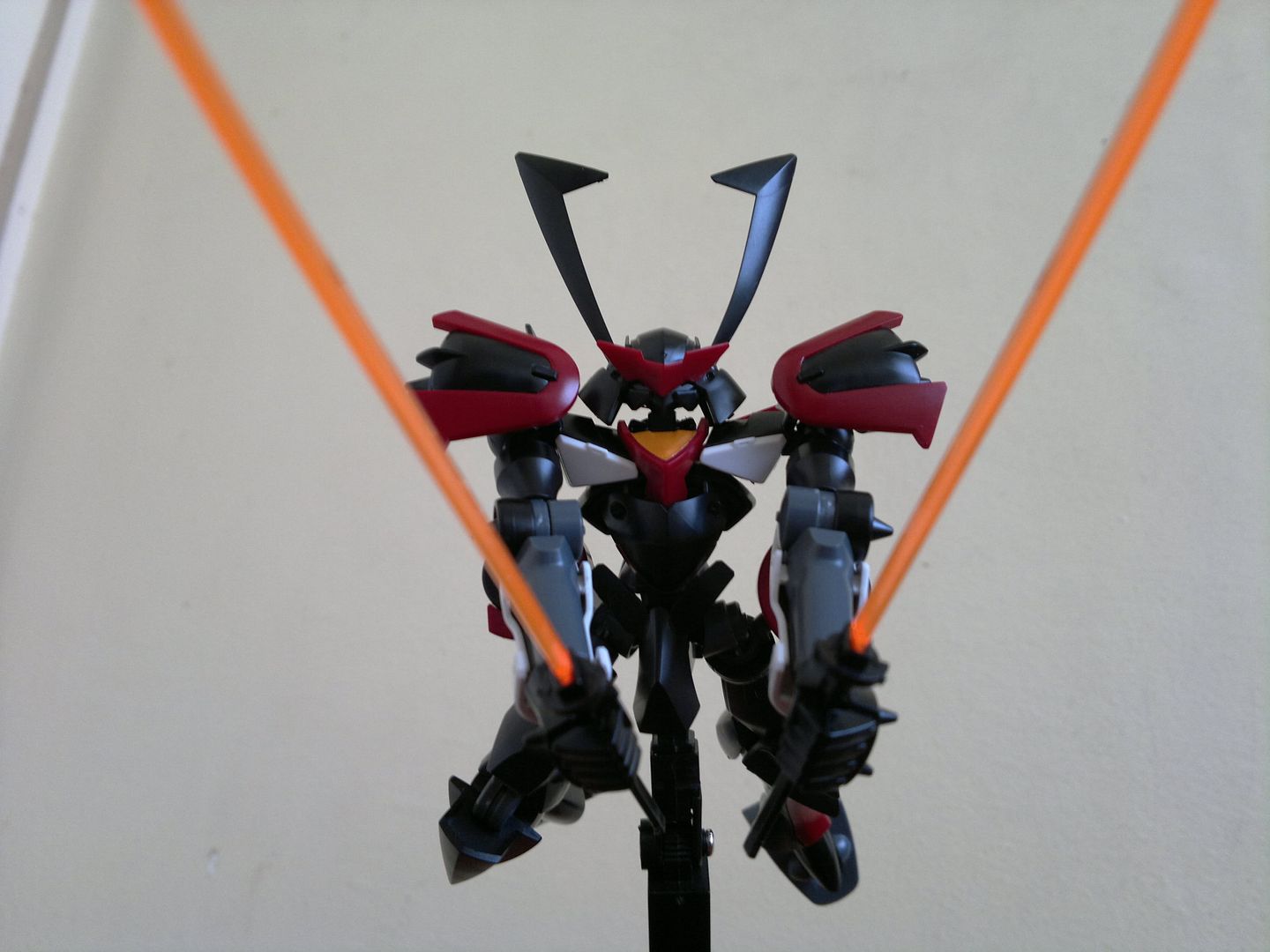 Attempt on the Boxart Pose... I think..
Good Bits:
- Edgy design
- Near- insane aerial articulation
- Colored Beam effects
Bad Bits:
- Weak joints
- Even weaker pegs, particularly the lower areas
- Ho-hum accessories
Conclusion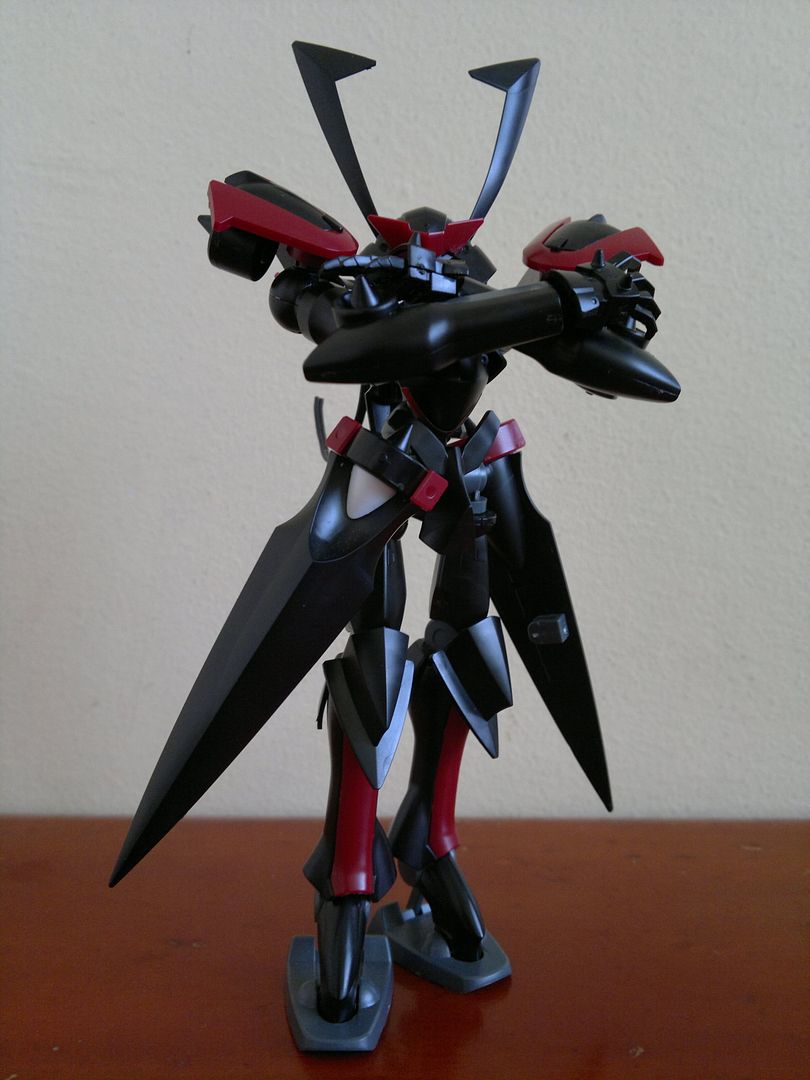 One of the most badass poses it did in the series...
I really could not blame this suit for not having that many features. Even if t wins briefly in the design department for being katana-sharp, it's somewhat let down by its weak joints. Still, I'm keeping this as a valuable addition to the Collection, being one of few non-gundam suits that can go toe-to-toe with one.
Although this is NOT the toe-to-toe I had in mind...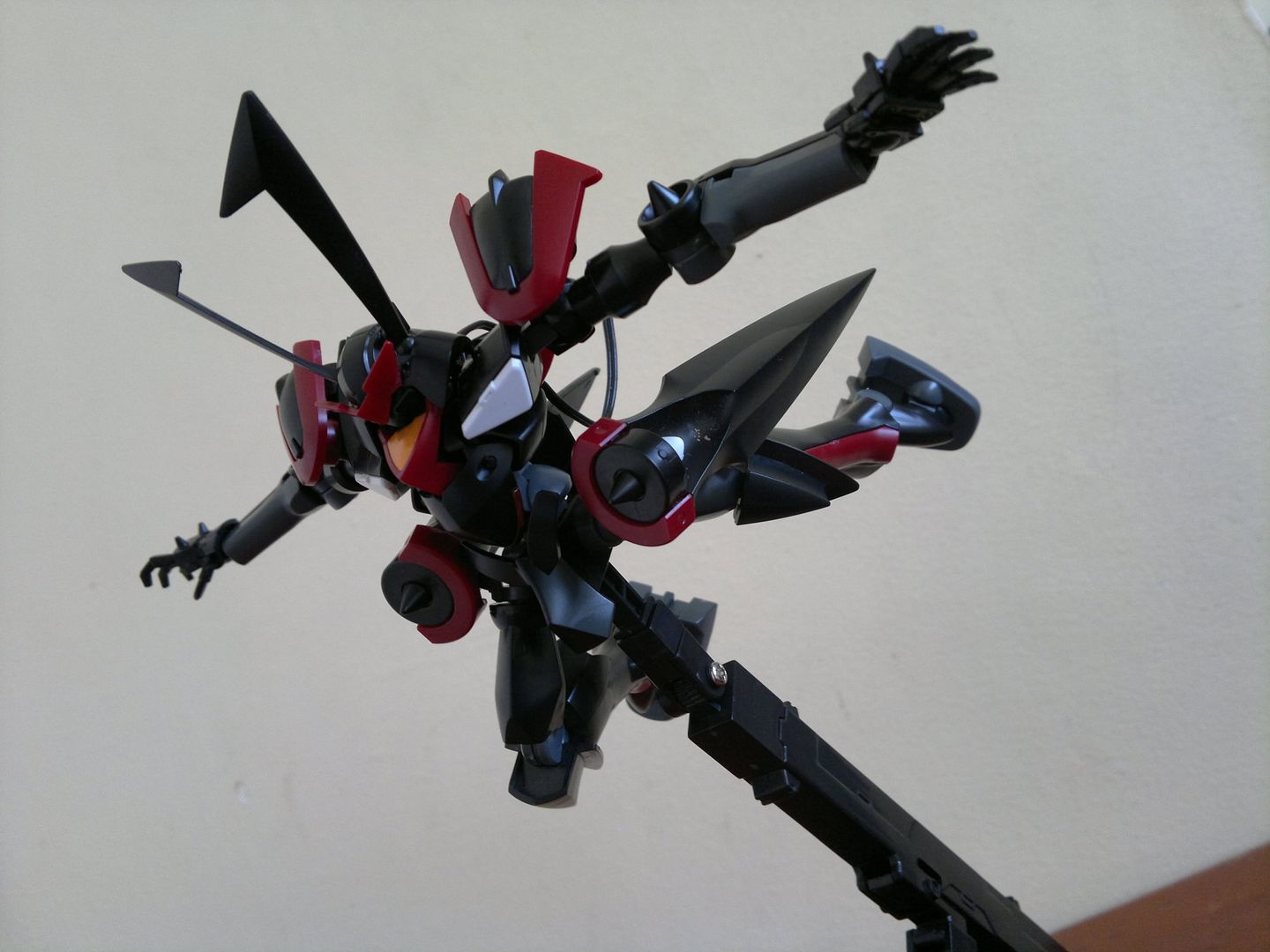 I want to embrace you again, Gundam!!!